Our Under 12 camogie squad welcome Maynooth to Dolphin Park this Saturday to commemorate the late Sarah Carty.  Originally from Annacurra in Co. Wicklow, Sarah was a much loved member of our club who contributed both on and off the pitch. An inspiration to many of our current crop of adult players, Sarah also led the #HealthyKevins initiative called Stich & Bitch where she thought many of our club members who to knit.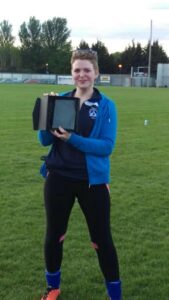 While travelling from Kildare, some of the Maynooth mentors will be very familiar with the hallowed grounds of  Dolphin Park, as they are very much part of the Kevin's diaspora. Aidan "Banjo" Flynn once graced the fields in the famous blue and white jersey and is part of an elite group of players who made it onto the Kevin's team of the century in 2002. Banjo hurled senior with the club throughout the 90s and into the noughties where he won senior league titles and played a key role in winning the Dublin Intermediate Championship in 2002. We welcome Banjo and his daughters who will be togging out with Maynooth.
Throw in is at 1.30 pm in Dolphin Park.