Our 3rd Adult Junior side got the week off to a start with an away game to St Kevin's/Killians in Kingswood on Monday night. It was a good game but Kevin's lost in a tight battle. It was great to catch up with former club hurler Tommy Madden who is doing great work promoting the small ball. Entries for GAA Rounders championship were also submitted during the week and we have decided to enter Minor Ladies and Under 12 Girls as well as an Under 13 Feile for boys and girls which will be held on the 11th June in Longford.
Saturday was another good morning for hurling and camogie as the Kevins Heroes and Donore Credit Union ABC Nursery proceeded to the field of play. There were no Go Games as it was a football week-end, but there will be fixtures next week. After a hard mornings training a number of the Under 9s, 8s and nursey players took part in the Harold's Cross Festival where they put on a hurling and camogie display. We also brought our Rounders bats and some children and adults gave it a go.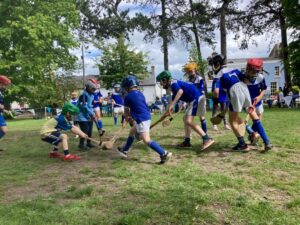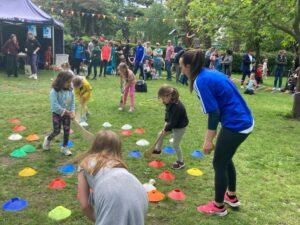 On Sunday our under 15s boys and girls took a well deserved trip to Carlingford in County Louth for a team away day. Many thanks to Juvenile Chairperson Gabrielle Breatnach for organising this event. There was no Under 19 fixtures as they received a walkover. Our Under 17 hurlers also received a walkover from Clontarf. While it was disappointing not to have a game, this means that the Kevin's Under 17s are now sitting in 2nd place in the league having lost only 1 game. click here for more details.
Our week ended on a high as our Minor camogie squad were crowned league champions after St Peregrines beat Lucan Sarsfields leaving s on top of the table. This is our first title of 2022!
Our Annual Golf Classic is also back! Put Friday the 15th July in your diary! This is both a key club fundraiser and a great opportunity to catch up with members (past and present) and friends. Details attached here.
If you have a match report you can email pro.kevins.dublin@gaa.ie! Mondays jackpot will be €1,400 and will be held in Lowes. You can play online using the secure Clubforce link by clicking here. All funds raised go towards the running of our many club activities.