The "Batty Bunch" played their 5th and last game of the inaugural Dublin Social Rounders Winter league in Rush last night. Kevin's needed the win to ensure qualification to the A finals on 12th March and after loosing to Limekiln last Sunday week, there were some pre-match nerves. The last game was fixed for St Maur's on their all-weather pitch under lights.
Kevin's fielded first and caught St Maur's out for 2 runs. Kevin's then replied with 6 runs in the bottom of the 1st. Kevin's experience stated to show in the 2nd innings as we started to pull away with some great batting, and smartly placed hits. Home runs were scored by Wayne Cullen, Joe Gallagher, Erica Meslin and Fergal Kelly, who managed to make the 100 sprint twice. St Maur's are very new to the game and were fielding a number of debutant, however, they did have some veteran's of the game which showed with great throwing to bases to catch. However, in the end Kevin's ran out winners of a score line of 20-7. The referee awarded player of the game to Wayne Cullen whose shadow struggled to keep up with him as he rounded the bases at lightening speed. He then stepped up to try his hand at bowling and at one stage was throwing the ball faster than some batters could hit. It's no wonder he's called the "Roscommon Rocket"!
There are a few games left in the league, but our win against St Maur's means that Kevin's will face Limekiln in the "A" Final on 12th March. The final will be played in Tymon Park and will form part of a bigger day where all the GAA Rounders clubs will participate in games. It will also be the finale of the Dublin County Boards #DubHealthWeek. The 3rd, 4th, 5th and 6th place play offs will take place between 12pm-2pm and the "A" Final for the Richie Costello Shield Shield is due for 2pm. It's the clubs first county final and a great way to start our 120th season promoting Gaelic games in Dublin's south city. All support welcome. The tables as at 26th February are below.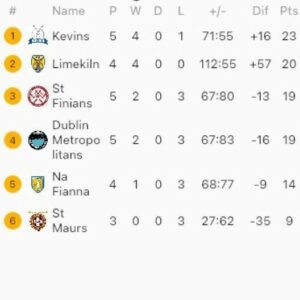 For more on Dublin Social Rounders check out their Facebook page Dublin GAA Rounders Social League | Facebook